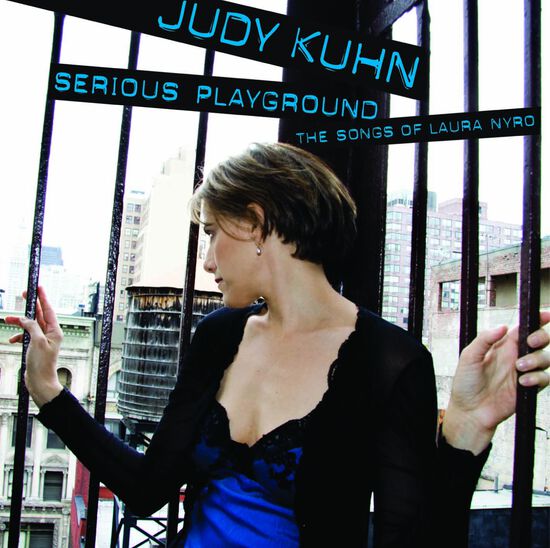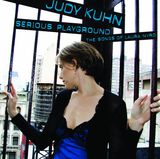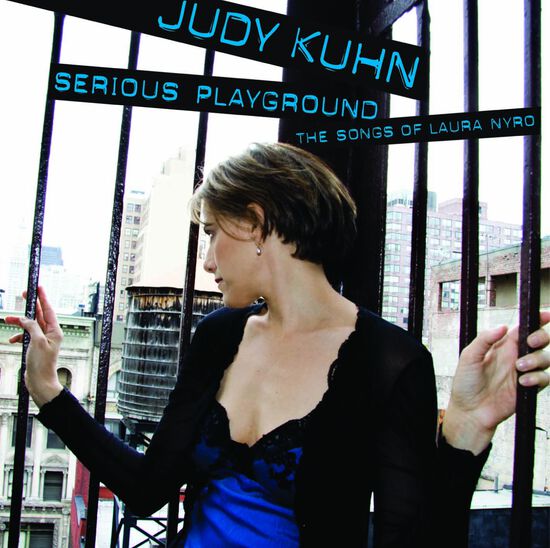 Judy Kuhn
Judy Kuhn 'Serious Playground - The Songs of Laura Nyro'
Availability:
Select Styles for Availability
JUDY KUHN, the acclaimed Broadway actress and singer, released her CD, Serious Playground: The Songs of Laura Nyro, through Ghostlight Records. This is the first-ever solo CD celebrating the pioneering singer-songwriter of the 1960s and 70s. The CD was produced by Music Director Jeffrey Klitz and Joel Moss, with Mr. Klitz leading an eight-piece band.
The CD is based on her sold-out concert at the Lincoln Center American Songbook Series. That concert followed Judy's Obie Award-winning role in the Off Broadway production of Eli's Comin' at the Vineyard Theatre, which inspired her passion for Nyro's music.
Serious Playground features fresh arrangements of Nyro's best-known songs like "Stoney End," "Sweet Blindness" and "Save The Country," but also offers new interpretations of rarely-recorded songs like "To A Child," "Mother's Spiritual" and "Been On A Train." "Lonely Women," spare and haunted on Nyro's album Eli and the Thirteenth Confession--widely considered her masterpiece--here has the feel of a hard blues. "Upstairs By A Chinese Lamp," named an all-time favorite by Rickie Lee Jones, is given a delicate treatment, as if part of a chamber opera. "Save The Country," whose potent anti-war message had a particular impact during the tumultuous Vietnam era, has a renewed relevance in the current political climate.
Laura Nyro is regarded as one of the most original voices of popular music. Her compositions--which fused gospel, soul, folk, and jazz--were hit records for artists including Barbra Streisand, The Fifth Dimension, Blood Sweat & Tears, and Three Dog Night. Nyro's own recordings, though not chart-toppers, have long been favorites with musicians and critics. Along with the likes of Joni Mitchell, Bob Dylan and Leonard Cohen, she helped to create the very idea of the contemporary singer/songwriter. Joni Mitchell herself said "she was not just an influence. I took direction from her."
"Nyro's profoundly poetic lyrics and her sophisticated, surprising melodies have such limitless range of expression and insight," says Judy. "I hope that this recording moves those who didn't know her work before to go listen to her and those who are already part of the fan club to listen anew to these beautiful, heartbreaking and inspiring songs."
JUDY KUHN has been nominated for three Tony Awards and three Drama Desk Awards for her work on Broadway in the hit revival of She Loves Me, the American premiers of Chess and Les Miserables, and Rags. She also received a Tony nomination for Fun Home. She is the singing voice of Disney's Pocahontas and co-starred in the upcoming film The Day on Fire, for which she also performed the soundtrack. Also on Broadway she appeared in Richard Nelson's play Two Shakespearean Actors (Lincoln Center Theatre), Alan Menken &Tim Rice's King David, and The Mystery of Edwin Drood. She also appeared in an adaptation of Chekhov's Three Sisters by Craig Lucas at the Intiman Theatre directed by Bartlett Sher, and co-starred in the world premiere of Michael John LaChiusa's The Highest Yellow at the Signature Theatre in Arlington, VA. She played Fosca in the critically acclaimed production of Passion at the Kennedy Center's Sondheim Celebration, and created the role of Betty Schaefer in the U.S. premiere of Sunset Boulevard in Los Angeles. In London's West End she starred in Metropolis for which she received a Laurence Olivier Award Nomination. Other theatre includes the title role in The Ballad of Little Jo at the Steppenwolf Theatre Co.(Jeff Award Nomination), As Thousand's Cheer (Drama Dept.), Dream True (Vineyard Theatre), Strike Up the Band (Encores!), The Glass Menagerie (McCarter Theatre), Martin Guerre (Hartford Stage), and Martha Clarke's Endangered Species (BAM). Judy sang the title role in Disney's Pocahontas, as well as the in the sequel Pocahontas II: Journey To A New World. Television appearances include Hope & Faith, Law & Order, All My Children, The Secret Life of Mary Margaret, My Favorite Broadway: The Leading Ladies, The Kennedy Center Honors, The Les Miserables 10th Anniversary Concert, and In Performance At The White House. Most recently she completed the feature film Day on Fire in which she costarred and performed the soundtrack with John Medeski.
Judy has performed on concert stages around the world including appearances at Carnegie Hall, Avery Fisher Hall, and The Royal Albert Hall in London and with Peter Nero and the Philly Pops Orchestra. She has performed her solo concert Finding Home which the New York Times called "revelatory" for Lincoln Center's American Songbook Series, Joe's Pub, the Kennedy Center and the Prince Music Theater in Philadelphia. She can be heard on numerous original cast recordings as well as her first solo CD, Just In Time: Judy Kuhn Sings Jule Styne.