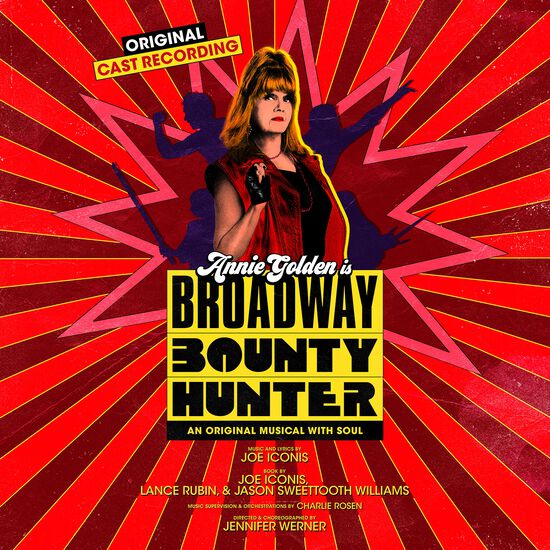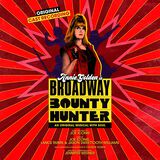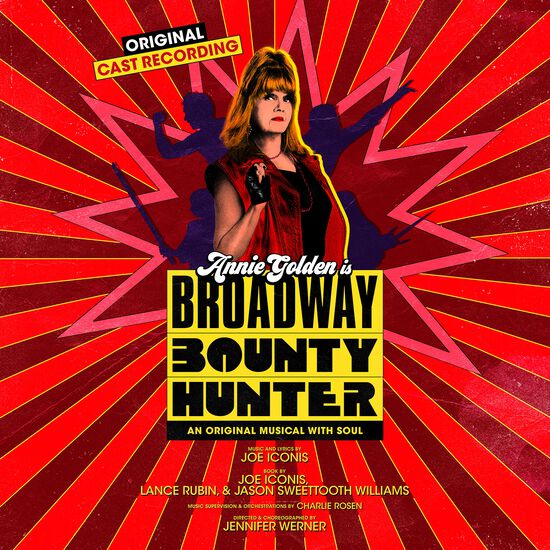 Joe Iconis
Broadway Bounty Hunter (Original Cast Recording)
Pre-order included
Broadway Bounty Hunter features music and lyrics by Tony Award nominee Joe Iconis (""Smash,"" Be More Chill), who also co-wrote the book with Lance Rubin (Denton Little's Deathdate), and Jason SweetTooth Williams (Be More Chill). The show is directed and choreographed by Jennifer Werner (The Book of Mormon, Supervising Associate Director) and stars Screen Actors Guild Award winner Annie Golden (Hair, Assassins, ""Orange is the New Black"") in the title role.
An electric musical comedy with an irresistible, soulful new score, Broadway Bounty Hunter follows down-on-her-luck actress Annie who has just about had it with showbiz, when along comes a gig no one could have predicted: the opportunity to become a real-life, Kung Fu-fighting bounty hunter. With a six-piece powerhouse band, the musical chronicles the journey of this woman of a certain age –from bad auditions on the streets of New York to beating up bad guys in the jungles of South America and discovering her true badass identity along the way. This New York premiere – produced by Jennifer Ashley Tepper (Be More Chill) and Allison Bressi (Songbird) – ran at Greenwich House Theater from July 9 through August 8, 2019, following the musical's sold-out, critically acclaimed world-premiere at Barrington Stage Company.

Album Producers: Joe Iconis, Ian Kagey, Charlie Rosen
Album Executive Producer: Kurt Deutsch, Jennifer Ashley Tepper
Album Co-Producer: Geoffrey Ko
Mixed by Ian Kagey
Mastered by Oscar Zambrano at Zampol Productions, New York, NY
Recorded at Sear Sound, NY, December 19 and 20, 2019 and Reservoir Studios, NY, January 8, 2020
Recorded by Ian Kagey
Assistant Engineers: Sear Sound: Grant Valentine and Justin Berger, Reservoir Studios: Thom Beemer, Matthew Sullivan, and Nicky Young
Music Supervisor: Charlie Rosen
Music Director: Geoffrey Ko
Music and Lyrics by Joe Iconis
Book by Joe Iconis, Lance Rubin, & Jason SweetTooth Williams
Directed and Choreographed by Jennifer Werner
Conductor and Keyboard 1: Geoffrey Ko
Saxophone, Woodwinds, and Keyboard II: Zac Zinger
Trumpet, Flugabone: Khrys Williams
Guitar: Megan Talay
Bass: Amanda Ruzza
Drums: Rosa Avila
Synthesizer Programmer: Randy Cohen
Guitar Programmer: Mike Rosengarten
Copyist: Danielle Gimbal
Swings: Emilie Battle, Ian Coulter-Buford
Anne L. Nathan, Broadway Bounty Hunter: Anne L. Nathan
Orchestrations by Charlie Rosen
Vocal Arrangements by Joel Waggoner
Special thank you to Allison Bressi, Marji & Kevin Finkel, Maxwell Haddad, Bailey Ford, Winston Hatta, The Schorr Family, August Laska, Benjamin Nissen, The Nice Kids, Dara Paige Bloomfield, Peri Ganbarg, Gray Lady Entertainment, Marandi Entertainment, Cliff Hopkins, Phil Iconis, Megan Minutillo, Jen Sandler, Mia Moravis, Platypus Productions, Michelle Riley, Michael Schweikardt, Sarafina Bush, Cody Spencer, Jules Fisher & Peggy Eisenhauer, Brad Peterson, Nehemiah Luckett, Carrie Gardner, Tinc Productions, E. Sara Barnes, Benjamin Brooks, AKA, Marathon Digital, Sammy Lopez, Vivacity Media Group, KGM Theatrical, Julie Boyd, Bill Finn, Rhinebeck Writers Retreat, Bob Brinkerhoff, Rob Cassie, Julia Sattler, Doug Nevin, Leah V. Pye, Lady del Castillo, Eric William Morris, Jill Dell'Abate, Leonard Sullivan, Marks Paneth, Ars Nova, Jason Eagan and Casey York, the Greenwich House staff, , The Johnny Mercer Colony at Goodspeed Musicals, Weston Playhouse,Matt Murphy, Seth Walters, Michael Finkle, David Berlin, Jessica Kent, John Buzzetti, Scott Chaloff, Kathy Evans, The Iconis Family, Lucille & Arthur Iconis, the beautiful BSC cast.
℗&© 2020 Bounty Hunter Yo! Productions, LLC & Sh-K-Boom Records, LLC,1633 Broadway, New York, NY 10019. All rights reserved.