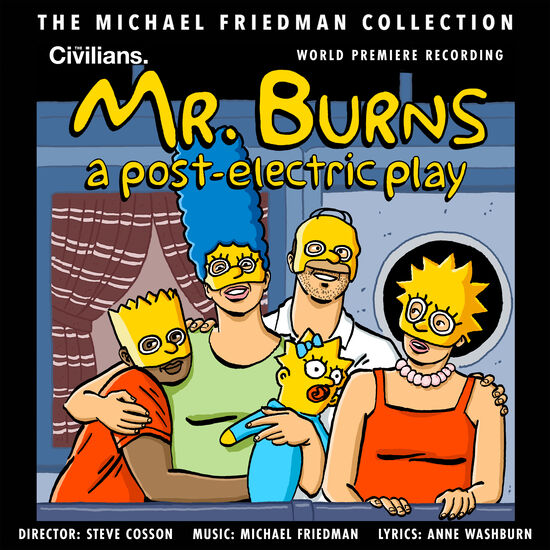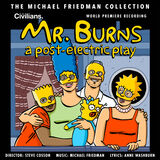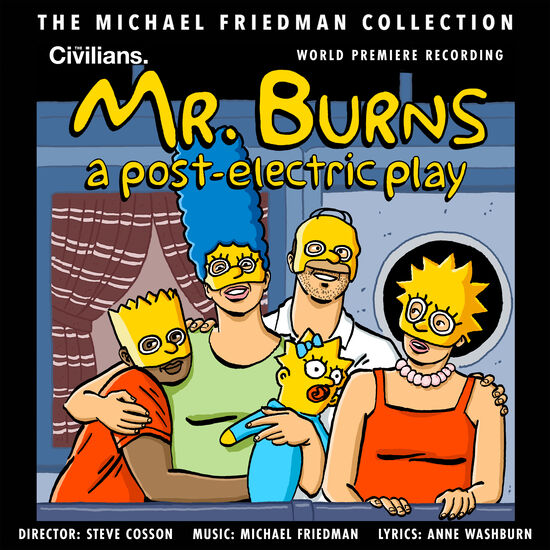 Michael Friedman
Mr. Burns: A Post-Electric Play (The Michael Friedman Collection) [World Premiere Recording]
What will endure when the cataclysm arrives, the grid fails, society crumbles, and we're faced with the task of rebuilding? With a script and lyrics by Anne Washburn and Michael Friedman's "songs of horror and resilience" (The Village Voice), this imaginative dark comedy propels us forward nearly a century, following a new civilization stumbling into its future. A paean to live theater, and to the resilience of Bart Simpson through the ages, Mr. Burns: A Post-Electric Play is an animated exploration of how the pop culture of one era might evolve into the mythology of another.
Originally commissioned The Civilians, Mr. Burns: A Post-Electric Play premiered at Washington
D.C.'s Woolly Mammoth Theatre Company in 2012 and in New York at Playwrights Horizons in
2013, both directed by The Civilians' Artistic Director, Steve Cosson.
Album Producer(s): Steve Cosson & Kurt Deutsch
Album Executive Producer(s): Sh-K-Boom Records and The Civilians
Album Co-Producers: Ian Kagey, Wiley DeWeese, Andrea Grody
Mastered by Frank Di Minno and Oscar Zambrano at Zampol Productions
Recorded at Power Station at Berklee NYC
Recorded May 16, 2022
Recorded and Mixed by Ian Kagey
Edited by Ian Kagey
Pro Tools Engineer Ian Kagey
Assistant Engineer(s) Matthew Soares, Mark Rucci
Music Director: Andrea Grody
Music Supervisor: Wiley DeWeese
Ensemble: Mike Cefalo, Andrea Daly, Grace Field, Vaibu Mohan, Eric Parker, Paul Speiser
Recording Project Coordinator: Melissa Hardy
Lyrics by Anne Washburn
Music by Michael Friedman
Band
Conductor/Piano: Andrea Grody
Guitar: Alex Nolan
Accordion: Cody Owen Stine
Percussion: Ashley Baier
Orchestrations by: Michael Friedman
Additional Orchestrations by Andrea Grody and Wiley DeWeese

1. Theme from Cape Fear - Jennifer R. Morris, Matthew Maher, Rebecca Hart, Michael Friedman, The Civilians
2. Three Little Maids - Jennifer R. Morris, Matthew Maher, Rebecca Hart, Gibson Frazier, Sam Breslin Wright, Michael Friedman, The Civilians
3. Hectic Day - Kristin Stokes, Mr. Burns Original Cast Recording Ensemble, Michael Friedman, The Civilians
4. Say Goodbye - Maya Sharpe, Mr. Burns Original Cast Recording Ensemble, Michael Friedman, The Civilians
5. The Call Came on the Radio - Maya Sharpe, Gibson Frazier, Kristin Stokes, Jennifer R. Morris, Sam Breslin Wright, Rebecca Hart, Matthew Maher, Christina Sajous, Mr. Burns Original Cast Recording Ensemble, Michael Friedman, The Civilians
6. I Stand on the Deck - Maya Sharpe, Gibson Frazier, Kristin Stokes, Jennifer R. Morris, Michael Friedman, The Civilians
7. Theme from Cape Feare - Mr. Burns Original Cast Recording Ensemble, Michael Friedman, The Civilians
8. Two Little Darling Lads - Rebecca Hart, Matthew Maher, Sam Breslin Wright, Michael Friedman, The Civilians
9. Messing with the Simpsons - Maya Sharpe, Kristin Stokes, Sam Breslin Wright, Michael Friedman, The Civilians
10. Everything Will Be Alright - Gibson Frazier, Sam Breslin Wright, Michael Friedman, The Civilians
11. Love and Hate/And Now the Sky - Christina Sajous, Rebecca Hart, Matthew Maher, Mr. Burns Original Cast Recording Ensemble, Michael Friedman, The Civilians
12. Say Goodbye - Maya Sharpe, Mr. Burns Original Cast Recording Ensemble, Michael Friedman, The Civilians
13. Keep On - Maya Sharpe, Gibson Frazier, Kristin Stokes, Jennifer R. Morris, Sam Breslin Wright, Rebecca Hart, Matthew Maher, Christina Sajous, Mr. Burns Original Cast Recording Ensemble, Michael Friedman, The Civilians
14. Burns' Last Speech - Sam Breslin Wright, Maya Sharpe, Mr. Burns Original Cast Recording Ensemble, Michael Friedman, The Civilians
15. The Clouds Have Parted - Mr. Burns Original Cast Recording Ensemble, Michael Friedman, The Civilians
16. Last Song - Maya Sharpe, Mr. Burn Original Cast Recording Ensemble, Michael Friedman, The Civilians