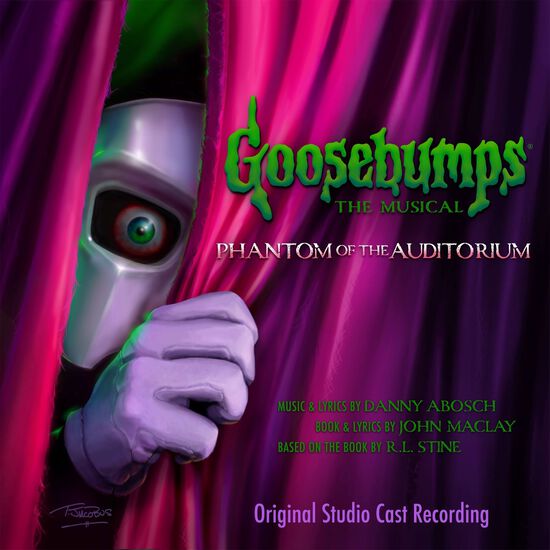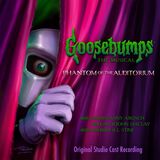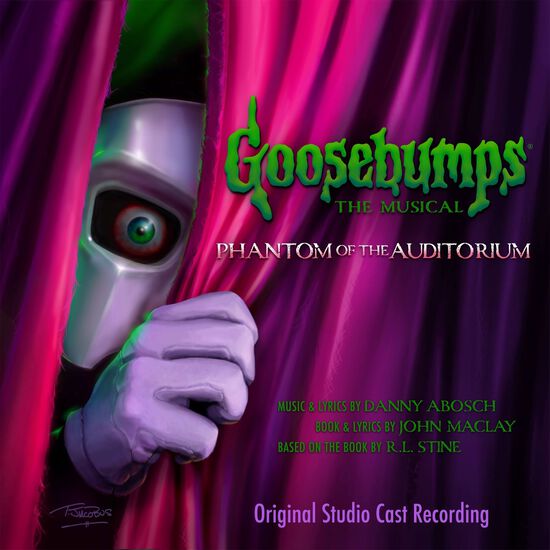 Danny Abosch, John Maclay
Goosebumps: The Musical: Phantom of the Auditorium (Original Studio Cast Recording)
Pre-order included
Brooke and Zeke are thrilled to be starring in a mysterious show called The Phantom, and not the least bit frightened by the old legend that the play is cursed. But when strange, spooky messages start appearing, and a masked menace starts disrupting rehearsals, they begin to wonder: what if there really is a ghost haunting their school, determined to stop the show?! Prepare to get goosebumps as they race to solve the mystery in this thrilling—and chilling—new musical, based on the classic series by R.L. Stine.
Music and Lyrics by Danny Abosch
Book and Lyrics by John Maclay
Based on "Goosebumps®: Phantom of the Auditorium" by R.L. Stine, published by Scholastic Inc.
Cast:
Brooke Rodgers: Krystina Alabado
Emile: Alex Brightman
Brian Colson: Noah Galvin
Ms. Walker: Sheryl Lee Ralph
Zeke Matthews: Will Roland
Principal Stine: R.L. Stine
Tina Powell: Stephanie Styles
Ensemble:
Arianny Escalona, Alex Gibson, AJ Lewis, Armenia Sarkissian, Shuba Vedula, Aika Zabala
Arrangements and Orchestrations: Danny Abosch
Production Manager: Griffin Dohr
Music Direction: Danny Abosch
Casting: Binder Casting / Chad Eric Murnane, CSA
Lead Recording Engineer: Ian Kagey
Editing and Mixing: Danny Abosch
Mastering: Justin Colletti / Joe Lambert Mastering
Cover Art: Tim Jacobus
CD Packaging Art & Design: Michelle Dimuzio
Music Coordinator: Mira Magrill
Music Copying: Connor Pietrzak
Produced by: Danny Abosch
for Danomalous Productions, LLC
Orchestra:
Flute/Piccolo: Mira Magrill
Clarinet/Bass Clarinet/Saxophones: Mark Dover
French Horn: Cameron West
Trumpet: Connor Pietrzak
Trombone/Bass Trombone: Jen Hinkle
Drums: Alex Marchisone
Percussion for "The Legend": Reinaldo Ocando
Guitars: Jakob Reinhardt
Harp: Kristi Shade
Violins: Will Curry, Zoë Miller, Chelsea Starbuck Smith, Ronald Villabona, Michele Zimmerman
Violas: Will Curry, Molly Goldman, Laura Sacks
Cellos: Daniel Gonzalez, Yoed Nir, Jay Tilton
Double/Electric Basses: Gonzalo Carmelé, Michael Epperhart, John Gray, Matthew Weber
Keyboards/Electronic Music Production: Danny Abosch
Additional Vocals:
"Goosebumps" and "Goosebumps (Reprise)": Alex Gibson (soloist), AJ Lewis, Armenia Sarkissian, Aika Zabala
"A Super Scary Play": Arianny Escalona, Alex Gibson, AJ Lewis, Stephanie Styles, Shuba Vedula, Aika Zabala
"The Story of The Phantom": Stephanie Styles (as "Esmerelda"), Alex Gibson
"Entr'acte", "The Trapdoor", and "The Phantom Unmasked": Armenia Sarkissian